Eigenschappen:
Simlock vrij met Teltonika Logo
Machine to Machine CAT 6 router M2M
Dual Sim/ Dual Wan
Downloadsnelheid: tot 300 Mbps
Uploadsnelheid: tot 50 Mbps
LTE FDD 700/800/850/900/1800/2100/2600 MHz
LTE TDD 2300/2500/2600 MHz
3G/ UMTS 850/900/1800/2100 MHz
3 x Gb LAN-poort
1 x Gb WAN-poort
2 x antenne aansluiting LTE (SMA-female)
1 x antenne aansluiting GPS (SMA-female)
Din Rail (optie)
UK-Charger (optional)
Beschrijving:
Teltonika heeft in navolging op de succesvolle RUT9XX de RUTX09 Machine to Machine M2M cat 6 router uitgebracht. De Teltonika RUTX09 M2M LTE-a router heeft een downloadsnelheid van 300 Mbps op het LTE netwerk en 50 MBps upload.
De RUTX09 is een snelle en zeer betrouwbare router die garant staat voor een stabiele en hoge gegevens doorvoer
Verbonden met het Mobiele 4G LTE netwerk biedt de Teltonika RUTX09 dual wan router aan 32 gebruikers supersnel internet. Op locaties waar nog geen 4G netwerkdekking beschikbaar is, schakelt de Teltonika RUTX09 automatisch terug naar een 3G netwerk.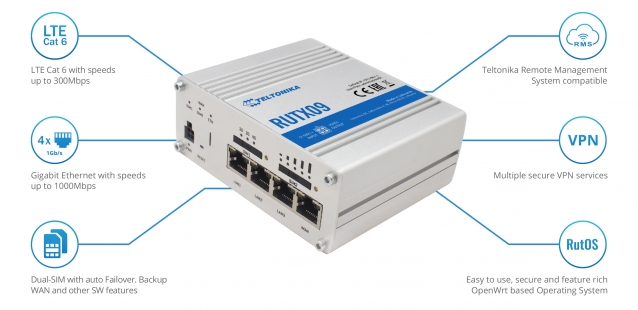 De Teltonika RUTX09 beschikt over 3 gigabit LAN-poorten (RJ 45), 1 gigbit WAN-poort (RJ 45), 2 externe SMA Female breedband antenne aansluitingen, SMA female GPS antenne aansluiting, USB-aansluiting en 2 externe simkaart houders. De Teltonika RUTX09 4G LTE-a heeft oa een ingebouwde DHCP-server, DNS relay, NAT en meer Professionele features.
Optimaal Bereik:
Op locaties waar het 3G/4G signaal laag is, kan men een externe mimo antenne aansluiten op de 2 x SMA female antenne poorten. Deze externe MiMo antenne wordt separaat verkocht op www.mifi-hotspot.nl.
Remote management System
Het instellen van de RUTX09 gaat eenvoudig via een overzichtelijke en gebruikersvriendelijke web interface. Indien men grotere aantallen routers heeft is het te adviseren om deze remote te beheren met het Teltonika RMS. Mifi-Hotspot biedt u gratis een 3-unit RMS pack aan ter kennismaking.
Teltonika Wiki:
Voor support en de laatste firmware updates kan men terecht op de Teltonika WiKi Knowledgebase.
Managed Simkaarten voor IoT en M2M Applicaties
Voor SIMkaarten voor IoT en M2M volg deze link. De simkaarten zijn romingvrij, hebben werelddekking en kunnen met een cloud platform beheerd worden.
In de doos:
Teltonika RUTX09 4G LTE-a router
Ean code 4779027312460
Engelstalige handleiding
Power Adapter wide input
3G/4G antenne 2x
GPS antenne 1x
UTP Kabel
Din Rail (optie)